BIRDS OF DIFFERENT FEATHERS - Work Style Assessment
Are you a hawk, an owl, a peacock, or a dove? This work style assessment helps you determine what kind of bird YOU are! Simple, quick, and easy to use, this self-assessment is enlightening and entertaining, as you see what kind of feathers you have, and learn how to work better with "birds" who are different from you. The instrument also includes a group assessment, so you can determine the prevalent work style of your department, team, or organization. It's perfect for individuals who seek self-understanding, as well as for training seminars on teamwork, diversity, communication, leadership, and creativity.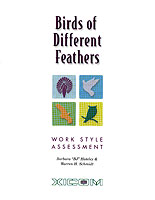 $9.00
A PEACOCK IN THE LAND OF PENGUINS - Mem-Cards
Are you looking for an interesting and effective way to reinforce training after your seminar participants are back on the job? Something that makes the point in a simple, succinct way? Mem-Cards provide a summary of the key learning points from the book and the video, A PEACOCK IN THE LAND OF PENGUINS. You can design learning activities using the Mem-Cards in your training workshops; you can also give each of your seminar participants a deck of Mem-Cards as a reward/reinforcement at the conclusion of your workshops. Mem-Cards are flash cards for the future .... designed to help people retain what they learn, in a flash.

Mem-Cards are $9 per deck, with quantity discounts available. If you buy a deck of Mem-Cards bundled with each copy of the book, A PEACOCK IN THE LAND OF PENGUINS, the cards are only $5 per deck -- total price for bundled a book and cards, $21.95 -- that's almost 50% discount on the cards!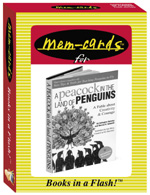 $9.00